5 minutes read
The Science Based Targets Initiative (SBTi)
The Science Based Targets Initiative is a carbon emissions reduction partnership between CDP (formerly known as the Carbon Disclosure Project), the United Nations Global Compact, the World Resources Institute (WRI), and the World Wildlife Federation (WWF). These partners coordinate with the We Mean Business Coalition, a global nonprofit working with influential businesses to pursue climate goals.
The coalition helps businesses achieve an SBTi net-zero standard, meaning that participants seek to balance the amount of carbon dioxide they generate with the amount they remove. The SBTi was launched in 2015 to promote the goals of the Paris Climate Accords agreed upon that year.
How the SBTi Works
The SBTi works by helping companies set and achieve science-based targets, which are carbon emission goals aligned with what the latest science recommends to limit global warming below 2 degrees Celsius above pre-industrial levels, in keeping with the Paris Agreement. The SBTi recommends sector-specific emissions reduction targets for certain industries, such as oil and gas, transportation, and information and communication technology. Companies may submit target goals to the SBTi for assistance with the scientific validation of objectives and tracking of progress. Progress is tracked and publicly disclosed on an annual basis.
Types of Targets Set by the SBTi
The SBTi follows the Greenhouse Gas (GHG) Protocol, the main global standard for measuring carbon emissions, in dividing greenhouse gas emissions targets into three scopes:
Scope 1 consists of direct emissions from sources directly owned by companies, such as boilers, furnaces, and vehicles
Scope 2 consists of indirect emissions from the generation of the electricity purchased by companies
Scope 3 consists of indirect emissions from other sources not owned by companies within their supply chains, such as the production of materials, transportation of fuel, and sales of goods and services
The SBTi further segments targets by other criteria. Certain industrial sectors have industry-specific targets.
Targets may be divided into absolute and intensity targets. Absolute targets aim to reduce emissions by a specific percentage. Intensity targets set targets within a framework relative to an economic or operational parameter, such as reducing emissions per square foot of space.
The SBTi works with participating companies for each target to develop an emissions reduction pathway. This is a long-term plan to promote emissions reduction and sustainability.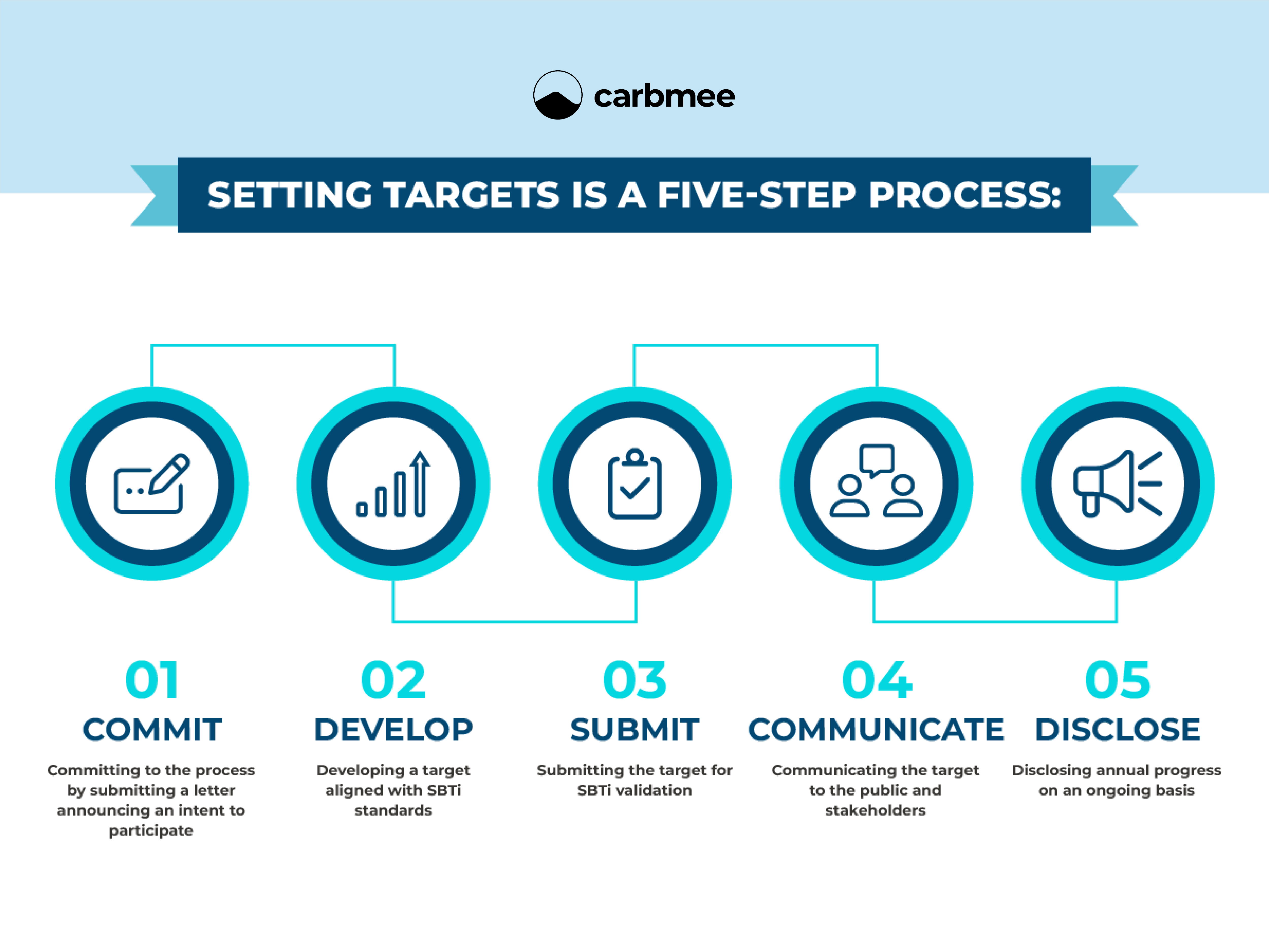 Benefits of Setting Science-Based Targets
The SBTi highlights several benefits to companies that pursue science-based targets. These include:
Contributing to global efforts to address climate change
Providing for future growth
Cutting energy costs
Achieving regulatory compliance
Improving relationships with stakeholders
Encouraging innovation and competitiveness
Building brand reputation with consumers
An additional benefit is receiving technical support from SBTi experts in achieving emission reduction goals and becoming net-zero companies.
Participation in the SBTi
The SBTi generally encourages participation by financial institutions and companies from all sectors and sizes, with a special emphasis on sectors with the highest emissions. However, there is currently a pause for fossil fuel companies and automakers due to transitions occurring in those industries. Small and Medium Enterprises (SMEs) can participate by applying for a streamlined validation of their near-term and net-zero targets.
Setting targets is a five-step process:
Committing to the process by submitting a letter announcing an intent to participate
Developing a target aligned with SBTi standards
Submitting the target for SBTi validation
Communicating the target to the public and stakeholders
Disclosing annual progress on an ongoing basis
Participants in this process receive support from the SBTi and its partners. Support includes:
Guidance from SBTi technical experts
Public recognition of commitment to the SBTi project on the websites of the SBTi, CDP, UN Global Compact, and We Mean Business.
Access to digital resources such as how-to guides and videos, sector-specific guidelines, and science based target-setting tools
A library of case studies and events to study for guidance
A newsletter providing ongoing updates
Sector-specific resources are available for certain industries. Support is particularly robust for the power sector and financial institutions, with detailed methodologies, frameworks, and requirements. Other sectors receiving special support include apparel and footwear, aviation, chemicals, information and communication technology, and transportation.
Why Your Organization Should Pursue Science-Based Targets in 2023
The SBTi helps companies set science-based targets and achieve emissions goals aligned with current scientific recommendations and global climate regulatory standards. This includes goals for direct emissions from companies and indirect emissions sources such as utility providers and supply chains. Companies participate in SBTi by submitting emissions targets for validation and ongoing tracking and reporting. This helps companies' internal efficiency and external relations with regulatory authorities, stakeholders, and consumers. This is becoming more imperative in 2023 as regulatory standards increasingly obligate companies to reduce emissions.
If you plan to pursue science-based emissions reduction targets, carbmee provides resources to assist you. We offer a cloud-based enterprise solution to measure carbon levels and manage emissions to achieve your net-zero goals. Additionally, we provide an online knowledge base and answers to FAQs to guide you through your pursuit of science-based targets. Book a free demo of our carbon management platform to have one of our industry experts walk you through our solutions and discuss your needs.