5 minutes read
The Game-Changing Sustainability Policy
The EU has taken a groundbreaking step to address the limitations of the Non-Financial Reporting Directive (NFRD), which failed to inspire sustainable business practices. The new CSRD mandates reporting for a broader spectrum of companies, recognizing the crucial role of small and medium-sized enterprises in the EU economy.
This policy demands companies disclose both climate change risks and their impact on climate and society, including scope 3 emissions. This transformation is pushing companies to rethink their objectives, operations, and entire value chains.
With the CSRD, standardized digital reporting aims to enhance comparability and transparency, by following the GHG Protocol and other international standards. By requiring a unified digital format, it streamlines reporting processes, improves comprehension, and allows meaningful comparisons between companies. The CSRD paves the way for stakeholders to better assess and benchmark corporate sustainability performance.
The Corporate Sustainability Reporting Directive (CSRD) marks a pivotal moment for SMEs in their sustainability journey. To ensure successful compliance, it is important to understand the criteria for SMEs to comply with the CSRD. As outlined by the European Commission, from 2026, the CSRD will apply to SMEs that are listed on regulated European markets and meet at least two of the following criteria:
Balance sheet total of EUR 4 million or above
Net turnover of EUR 8 million or above
Average of 50 or more employees during the financial year
If you are unsure whether your company falls into each category, please refer to the table below for clarification: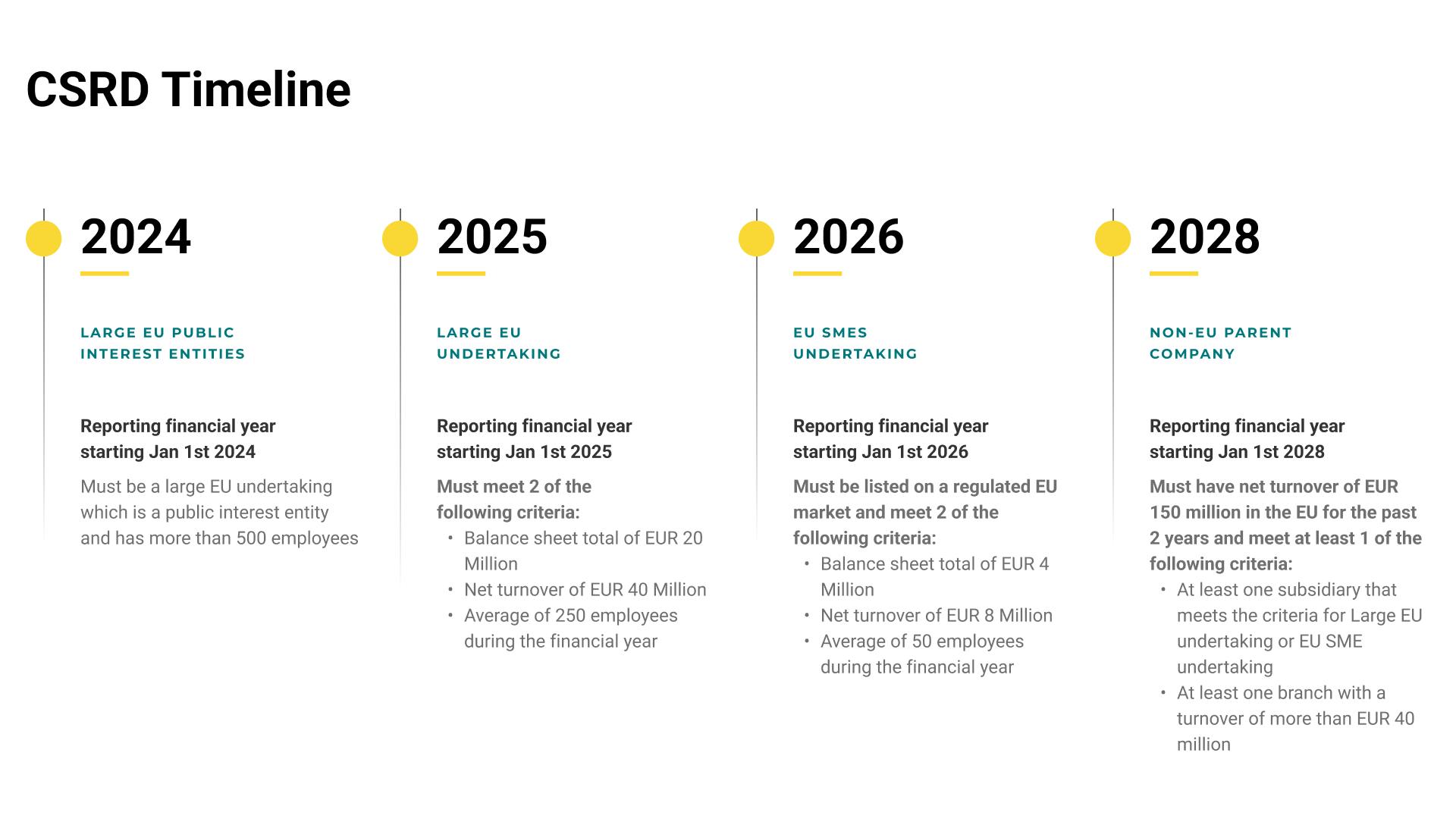 With this in mind, follow the checklist to effectively navigate CSRD compliance:
1. Evaluate Your ESG Performance
Kickstart your CSRD compliance journey by assessing your organization's environmental, social, and governance (ESG) performance. Identify risks and strengths across your operations, supply chain, and customers, while considering the crucial inclusion of Scope 3 emissions.
Carbmee's Environmental Intelligence System™ streamlines data collection and collaboration across multiple departments and stakeholders. As a result, your company is equipped with a solid foundation to create a winning sustainability strategy.
2. Craft a Targeted Sustainability Plan
Once you've pinpointed risks in your value chain, develop a focused sustainability plan that tackles your company's negative impacts while supporting your business goals. Set clear objectives for reducing environmental impact, boosting social responsibility, and enhancing corporate governance. Ensure your plan has realistic targets and a roadmap to achieve them, including meeting CSRD reporting requirements.
With carbmee's Environmental Intelligence System™, clients gain personalized insights to identify value chain hotspots and benchmark initiatives that drive carbon reduction, addressing both costs and emissions.
3. Set Up a Strong Data Collection Process
For successful CSRD reporting, it's essential to have a systematic data collection process across your organization. Streamline this process by using digital platforms that integrate internal systems and ensure accurate ESG metrics.
The EIS™ seamlessly connects with your ERP system, automatically calculates your company's carbon emissions, and simplifies CSRD reporting. Plus, it helps track initiative results, forecast emissions, and compare year-over-year performance.
4. Collaborate with Suppliers and other Stakeholders
Join forces with suppliers, customers, and stakeholders to achieve outstanding ESG performance through CSRD's market-wide sustainable business transformation. Inspire alignment with your sustainability goals while fostering transparency and collaboration for maximum results.
Our Environmental Intelligence System™ streamlines supplier data, shares product carbon footprints, and helps you create, implement, and track impactful reduction initiatives.
5. Regularly review and update
Sustainability is not a one-time project, but a new way of doing business. tay ahead of the game by frequently refining your strategy and mastering the latest CSRD regulations. Track progress, seize new opportunities, and measure success.
Utilize comprehensive platforms like EIS™ to minimize operational costs, streamline data exchange among departments, and focus on crucial aspects for a sustainable and impactful business.
Unlock SME Growth with CSRD Compliance
Complying with the Corporate Sustainability Reporting Directive (CSRD) presents many challenges for SMEs, who may lack the resources or even the ESG expertise to measure, manage and disclose their performance. However, the CSRD can be a golden opportunity to set your company up for success. By embracing the new regulations, SMEs can unlock new business opportunities, solidify their position as a sustainability leader, and thrive in a competitive market landscape.
Fostering Trust through Transparency
Achieving CSRD compliance empowers SMEs to foster confidence among stakeholders with enhanced transparency. By actively revealing their environmental footprint, SMEs showcase a dedication to openness and responsibility. This cultivates trust from clients, investors, and collaborators, positioning your brand as one that genuinely embraces sustainability and practices what it preaches.
Enhance Brand Reputation
The CSRD provides a unique platform for SMEs to showcase their sustainability initiatives and enhance their brand reputation. By complying with CSRD reporting requirements, you position your company as a forward-thinking, environmentally conscious entity. This resonates with environmentally conscious consumers who actively seek out companies that prioritize sustainability. By differentiating your brand, you can attract loyal customers who value the positive impact you have on the planet.
Attract Sustainable Investment
The CSRD is a gateway to a world of sustainable investment opportunities for SMEs. Investors are increasingly prioritizing environmental, social and governance (ESG) issues in their decision-making. By adhering to the CSRD standards, you send a powerful message that your company is dedicated to long-lasting sustainability objectives. This commitment paves the way for funding, collaborations, and growth opportunities that harmonize with your vision and principles.
Boost efficiency, reduce costs, and gain competitive advantage
Complying with CSRD regulations goes beyond ticking boxes – it's about optimizing your operations for success. Tracking and reporting your environmental impact provides valuable insights into how you use resources. This allows you to pinpoint areas that need improvement, streamline processes, and enhance operational efficiency. As a result, you can save costs and stay ahead of your competitors. Showcasing your sustainable practices gives you a competitive advantage in an eco-conscious market that continues to grow.
Embrace the CSRD and unlock your potential
Meeting the CSRD standards isn't just about legal compliance; it's a transformative journey that can lead your small or medium-sized enterprise (SME) to sustainable success. By seizing the opportunities offered by the CSRD, you can enhance your brand image, attract investors, cut costs, and gain a competitive edge. Embrace the CSRD, show your dedication to sustainability, and position your SME as a frontrunner in the pursuit of a greener future. The time is now - unlock your potential and enjoy the benefits of CSRD compliance.
Ace CSRD compliance with the EIS™
The Environmental Intelligence System developed by carbmee automates data collection from various systems within your company and stakeholders, providing accurate calculations of your carbon emissions. As CSRD now includes Scope 3 emissions, it's crucial for SMEs to measure and disclose not just their direct emissions, but also those from their entire value chain. Don't get caught up in time-consuming spreadsheets and unreliable email exchanges like many companies.
With the EIS™, you can measure Scopes 1, 2, and 3 emissions in just two weeks. Gain insights into emission hotspots across your value chain and uncover hidden reduction opportunities. Facilitate seamless collaboration between departments, suppliers, and customers for efficient data collection and initiative planning, execution, and tracking. The EIS™ empowers your company to develop robust climate strategies that align with CSRD reporting requirements.
Key takeaways
The Corporate Sustainability Reporting Directive (CSRD) is an exciting new regulation impacting around 50,000 EU companies, including small and medium-sized enterprises (SMEs). It requires comprehensive sustainability data disclosure, including Scope 3 emissions.
The CSRD promotes a holistic approach to sustainability reporting, tackling climate risks and impacts head-on while encouraging standardized digital reporting for better comparability and crystal-clear transparency.
SMEs should comply with the CSRD by assessing their ESG performance, crafting a well-rounded sustainability strategy, implementing robust data collection processes, teaming up with suppliers and stakeholders, and regularly reviewing and refining their sustainability game plan.
Embracing the CSRD can unlock numerous benefits for SMEs, such as increased transparency that fosters trust, a glowing brand reputation, alluring sustainable investment, streamlined operational efficiency, cost savings, and a competitive edge in the market.
An automated solution is a must for companies to comply with CSRD without the burden of operational costs and compliance risks. The EIS™ is a holistic solution that simplifies data collection, boosts collaboration, and automates carbon emissions calculations. It empowers SMEs to confidently comply with the CSRD and accelerate their net-zero journey.