From Carbon Reporting to Carbon Reduction:

Kärcher's Climate Journey with carbmee EIS™
Discover how Kärcher is using carbmee EIS™ to achieve timely reporting and drive assertive carbon reduction.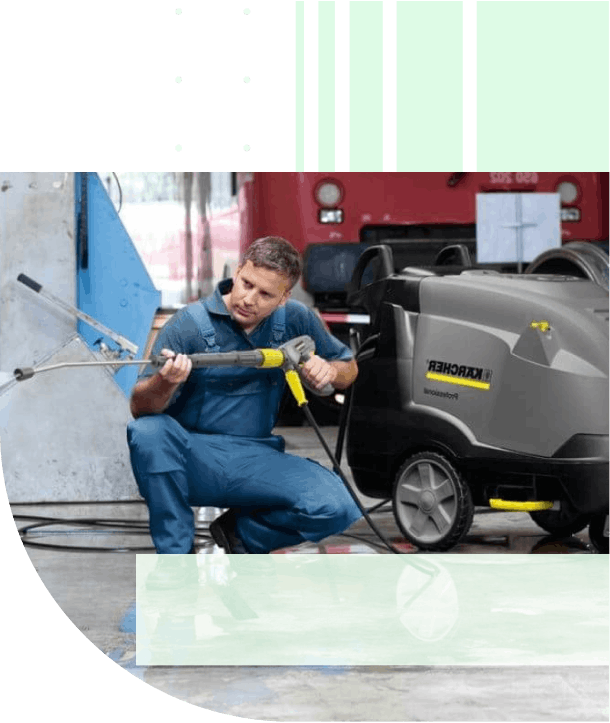 supply chain EMISSIONS
REGION: EUROPE
INDUSTRY: cleaning equipment
"The carbmee EIS™ empowered us to turn data into actionable insights, setting ambitious but still data-driven climate targets and complying with new carbon regulations faster than we could ever imagined."
Alfred Kärcher SE & Co. KG, a global leader in the cleaning technology industry, has built a reputation for its high-pressure cleaners, floor care equipment, and dedication to a clean and carbon neutral future. With a deep-rooted commitment to continuous renewal and a focus on sustainability, Kärcher embarked on a journey to address climate change and reduce its environmental impact. Partnering with carbmee and using its carbon management platform - the Environmental Intelligence System (carbmee EIS™), Kärcher has taken bold strides towards achieving their ambitious climate goals. This allows them to comply with global sustainability initiatives and overcome the hurdles of new regulations such as the Carbon Border Tax (also called CBAM or Carbon Border Adjustment Mechanism).
Rapid Carbon Transparency


Accelerating Calculations with carbmee EIS™
Kärcher swiftly attained emissions transparency in their supply chain by harnessing carbmee EIS™. Their use of advanced automation technology in this way enabled them to calculate supplier carbon footprints at scale, 11 times faster than traditional methods. This expedited reporting and freed up resources for carbon reduction initiatives.

Beyond this, the EIS™ provided Kärcher with real-time data about their carbon performance and insights on the biggest and most urgent challenges they should tackle across their supply chain. This level of transparency supports companies prioritizing their highest reduction potential and initiating procurement projects focused on building resilient supply chains, such as collaborating with suppliers or implementing new tendering processes for Scope 3 carbon reduction.
Setting SBTi Targets with Precision
As a member of the Science Based Targets initiative (SBTi), Kärcher is dedicated to rapid emissions reductions in line with climate science.  Precise data from the EIS™ allows them to set objectives that are both ambitious and firmly grounded, with the aim of translating climate goals into tangible climate action.

With this level of data transparency, Kärcher's team is able to consider multiple data points to make decisions, including historical emissions data, industry benchmarks and company's long-term objectives. Moreover, they recognize that achieving ambitious targets requires collaboration and engagement from multiple stakeholders. And with carbmee EIS™ they can integrate suppliers and employees from multiple departments to inform, foster and monitor their carbon reduction initiatives.
"We are deeply committed to our climate goals, and our approach is to set a realistic yet ambitious carbon reduction target that truly drives action across our entire value chain. carbmee EIS™ has provided us with the tools we need, such as measuring our emissions baseline and gaining transparency beyond our factory gates, to identify the most significant opportunities for reducing our carbon footprint."
Getting Ready for the CBAM with carbmee EIS™
As the impending Carbon Border Adjustment Mechanism (CBAM) deadline approached, Kärcher acted decisively to find a robust solution that could ensure compliance with the new carbon regulations coming into effect in January 2024.

The automation capabilities of  EIS™ allowed Kärcher to calculate carbon emissions across their supply chain, including the carbon footprint of their suppliers and purchased goods. This data-driven approach not only empowers them to accelerate their reporting process for the CBAM but also facilitates a deep understanding of potential risks within their supply chain, ensuring they are well-prepared for the implications of new carbon taxes.

It was the real-time access to their carbon performance data that gave valuable insights that empowered the team to proactively identify areas for carbon reduction. By staying ahead of the curve and implementing strategies to mitigate carbon tax impacts, they can now gain a competitive advantage by securing a resilient supply chain that can thrive in the new low-carbon economy.
"With the reporting phase of the CBAM coming as soon as January 2024, we knew we needed to rely on a technology that could calculate the emissions of our purchased goods fast. Sustainability questionnaires for suppliers just wouldn't make it on the time and scalability we needed. carbmee EIS™ is a game-changer for CBAM compliance. In a matter of weeks, we are able to achieve full traceability of purchased goods' emissions, enabling us to meet new carbon regulations with unparalleled speed."
Key Takeaways from Kärcher Net-Zero Journey to Industry Peers
Kärcher's experience with the EIS™ lays the foundation for an efficient net-zero journey, holding important lessons for other companies committed to climate action: